Faculty members trained to write gender sensitive IMs
By Patrianne M. Padua, MA and Natalie Narisma, PhD
---
Posted on December 07, 2017
---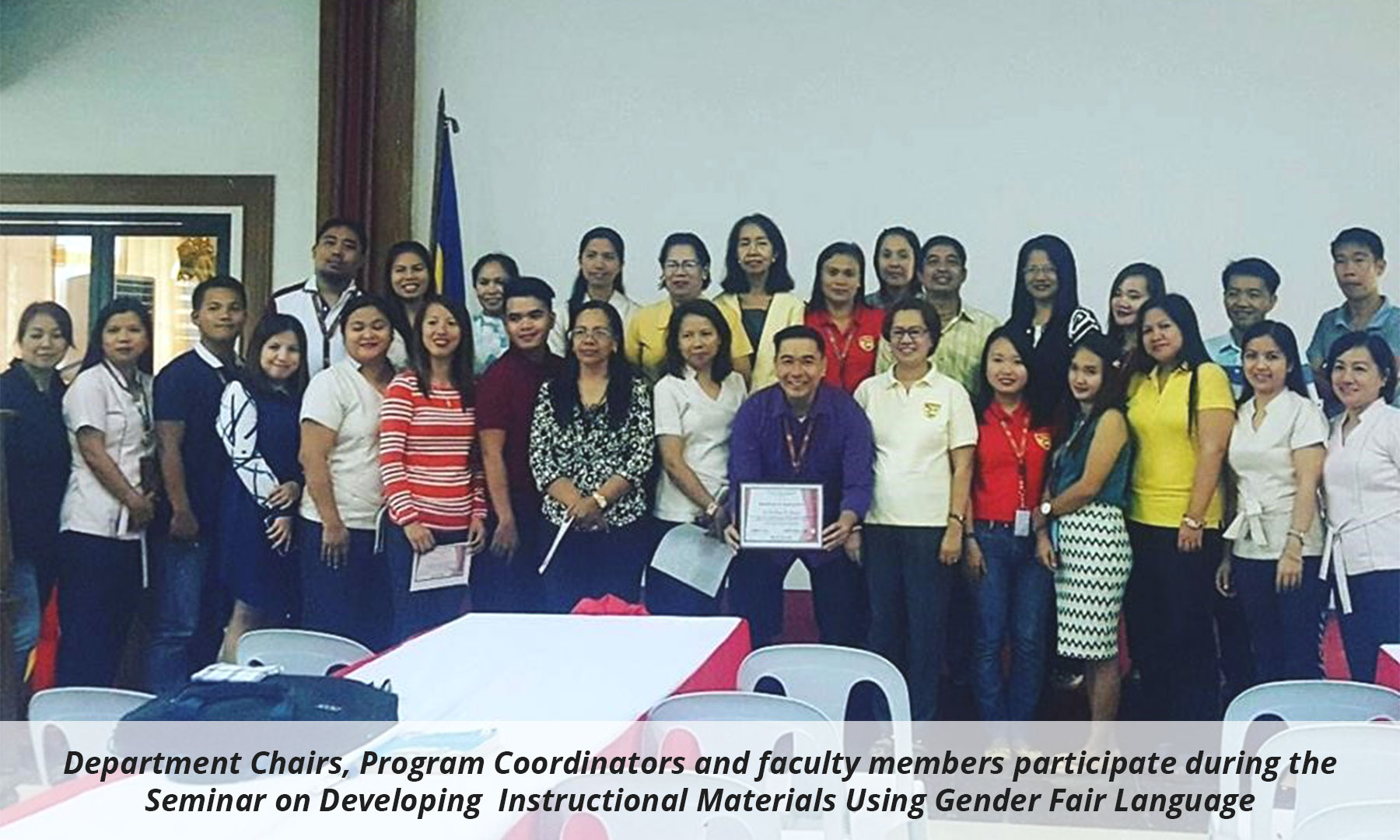 ---
As part of its continued efforts to strengthen Gender and Development (GAD) mainstreaming in the classroom, the College of Arts and Sciences (CAS) –GAD unit hosted a half-day workshop for faculty – book writers and officials on Nov. 29.
Held at the College of Information and Computing Sciences Hall, the workshop titled "Developing Instructional Materials Using Gender Fair Language" aimed to orient faculty members on the important reminders for developing a localized learning material that is gender inclusive.
CAS Dean Jane Sambrana and Prof. Kristinne Lara, GAD coordinator of the college, invited Prof. Ian Roger M. Francisco, an ASCU-Solid North writer and a former PROBE (Project in Basic Education) writer-editor, to share his thoughts on how to go about writing a gender-neutral material which includes modules, worktexts and workbooks.
A national trainer of the Commission on Higher Education's Project SPELL (Strengthening the Proficiency of the English Language Learners), Prof. Francisco split his presentation into two. The first part was a brief presentation of some examples of sexist language, and the second focused on the characteristics of a gender-sensitive instructional material.
Department Chairs, Program Coordinators, College GAD Focal Persons and faculty members from other colleges came to participate in the activities he prepared which included individual and dyadic exercises and content analysis of a sample material.
Francisco, in his presentation, hoped that the activity would have a second part, this time, allowing more time for the faculty-writers to put up sample lessons or exemplars on their areas or disciplines.
"I hope management will consider it a priority to hold activities in the future that will sustain the interest of teachers to produce localized materials that we can proudly say gender-sensitive materials," the speaker said.
Part of the observance of the campus on the campaign to eliminate violence against women and their children (VAWC), this activity was conducted in coordination with the Campus GAD Office and Campus Research and Extension Office.
It was organized in part by the Organization of Political Science Majors (OPSM), where Lara serves as an Adviser.