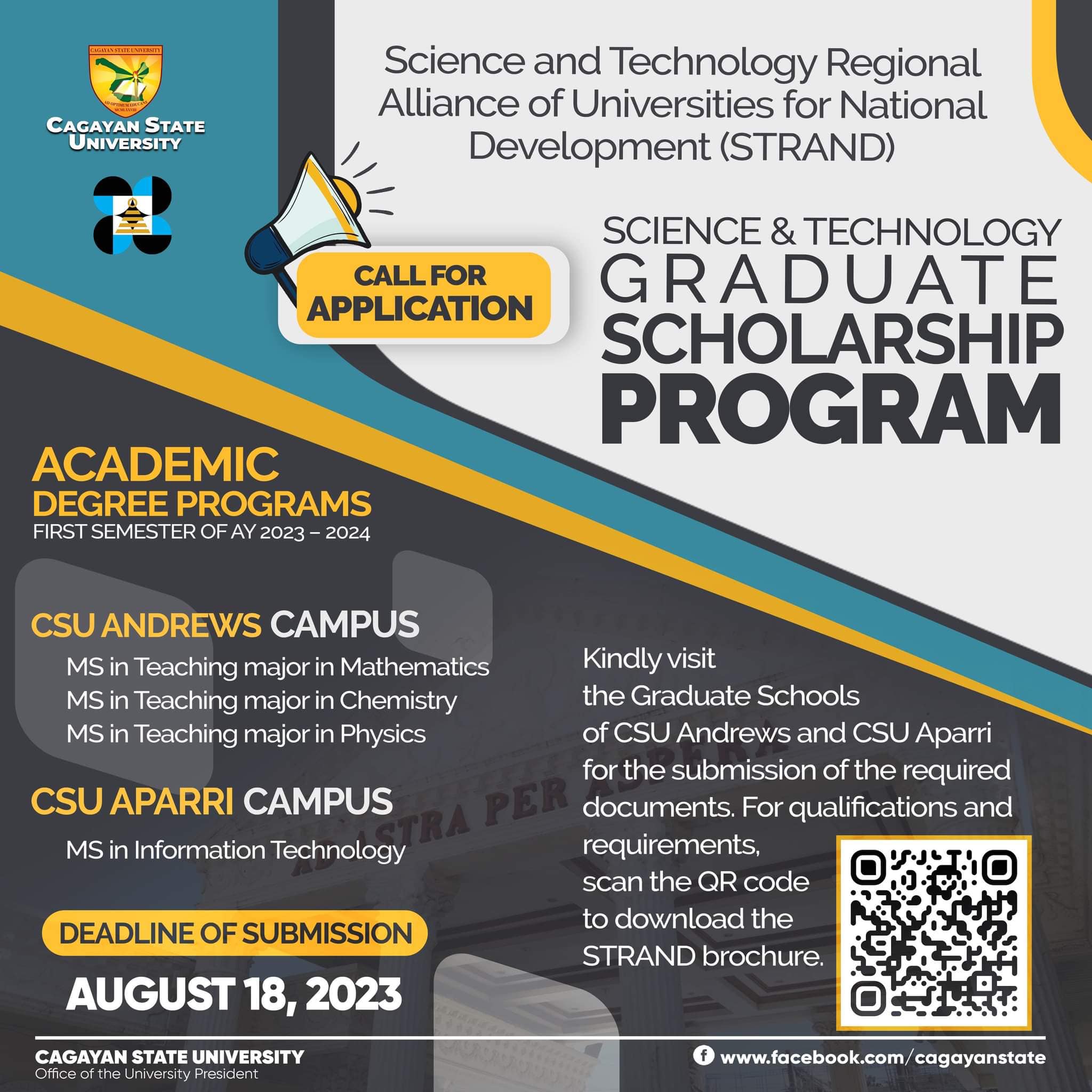 Today, August 3, 2023, the Department of Science and Technology - Science Education Institute (DOST – SEI) officially announced the approval of Cagayan State University (CSU) as a delivering institution of the project dubbed "Science and Technology Regional Alliance of Universities for National Development (STRAND) for the Niche Centers in the Regions for R&D (NICER)" or Project STRAND-N effective for the First Semester of AY 2023 – 2024.
CSU is considered a STRAND N2 scholarship-delivering institution for the identified graduate degree programs – Ph.D. in Education major in Science Education, MS in Teaching major in Mathematics, MS in Teaching major in Chemistry, MS in Teaching major in Biology, MS in Teaching major in Physics and MS Information Technology (Aparri Campus).
Five scholarship slots will be available for each academic program identified and will be endorsed to the institute no later than August 31, 2023. The graduate scholars will receive the following scholarship privileges: (Masteral) – monthly stipend of P22,000, up to P60,000 thesis grant, around P225,000 student research support fund, among others; (Doctoral) – P33,000 monthly stipend, P100,000 for dissertation, P475,000 student research support fund, etc.
STRAND – N is a DOST–SEI graduate program that grants scholarships for Master's and Doctoral programs in Science and Technology identified priority fields.
To know more about the program, qualifications, and requirements, download the brochure at https://sei.dost.gov.ph/images/downloads/strandBroc2023.pdf.