UNIVERSITY NEWS
---
CSU Celebrates its 41st Founding Anniversary
By Office of the President
---
Posted on June 11, 2019
---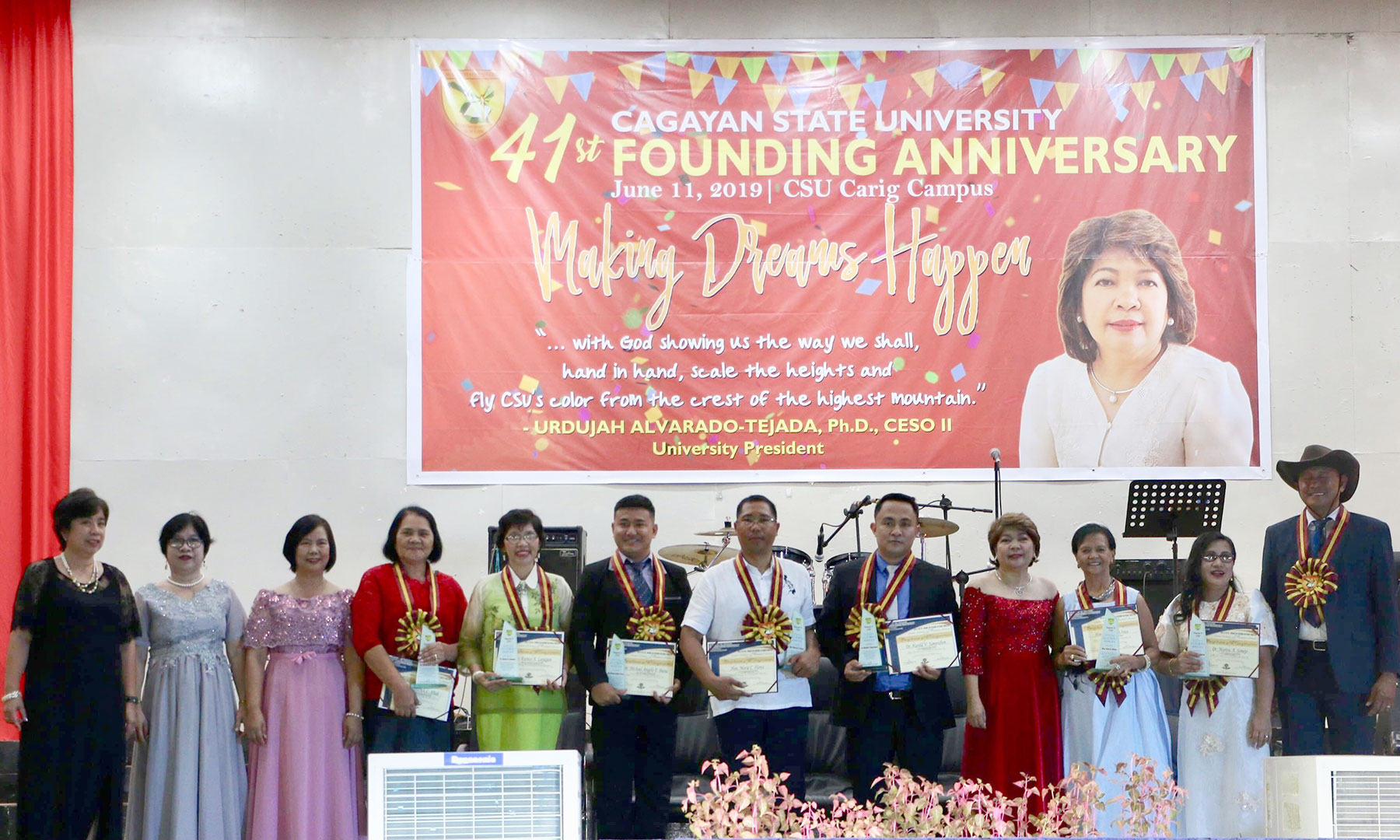 ---
Cagayan State University celebrates its 41st Founding Anniversary on June 11, 2019 at CSU Carig Campus' Red Eagle Gymnasium as a series of activities took place to commemorate the humble beginnings and the great achievements of the institution.
The event brought together members of its constituting campuses to collectively celebrate the foundation of CSU. The program began with the invocation of the Almighty Father through a Eucharistic Celebration that was presided by Fr. Ranhilio C. Aquino.
With the theme, "Making Dreams Happen", University President Urdujah A. Tejada presented her State of the University Address through an audiovisual presentation that features the accomplishments of CSU in 2018 across its arm in Academic Affairs, Research, Development and Extension, Administration and Finance, and Partnership and Resource Mobilization.
The celebration also became an avenue to recognize the faculty and employees whose service in CSU is worthy of a loyalty award. At the same time, outstanding research and extension personnel and programs were duly awarded. The fun continued as the campuses of Carig, Andrews, Gonzaga, Lasam, Lal-lo, and Piat delivered special performances that features their talents in dancing, singing, and playing instruments during the Solidarity Lunch. This is followed by playing the game of luck, as Bingo Socials had everyone's ears on the numbers being drawn.
As the day grew close to its end, the celebration continued with the conduct of the Alumni Night where everyone dressed in their formal attires. In recognition of the fact that the graduates of the University are one of its best assets, the elected officers for each of the campuses' alumni associations were presented to the function and the distinguished alumni of the University were recognized and awarded for their exemplary contribution in their own chosen field. The night was also a witness to the different special numbers that were performed by campus officials and staff as they danced the night away.