President Alvarado graces Opening Programs for the Virtual Accreditation of CSU Piat, Carig and Sanchez Mira
By Office of the University President
---
Posted on October 26, 2021
---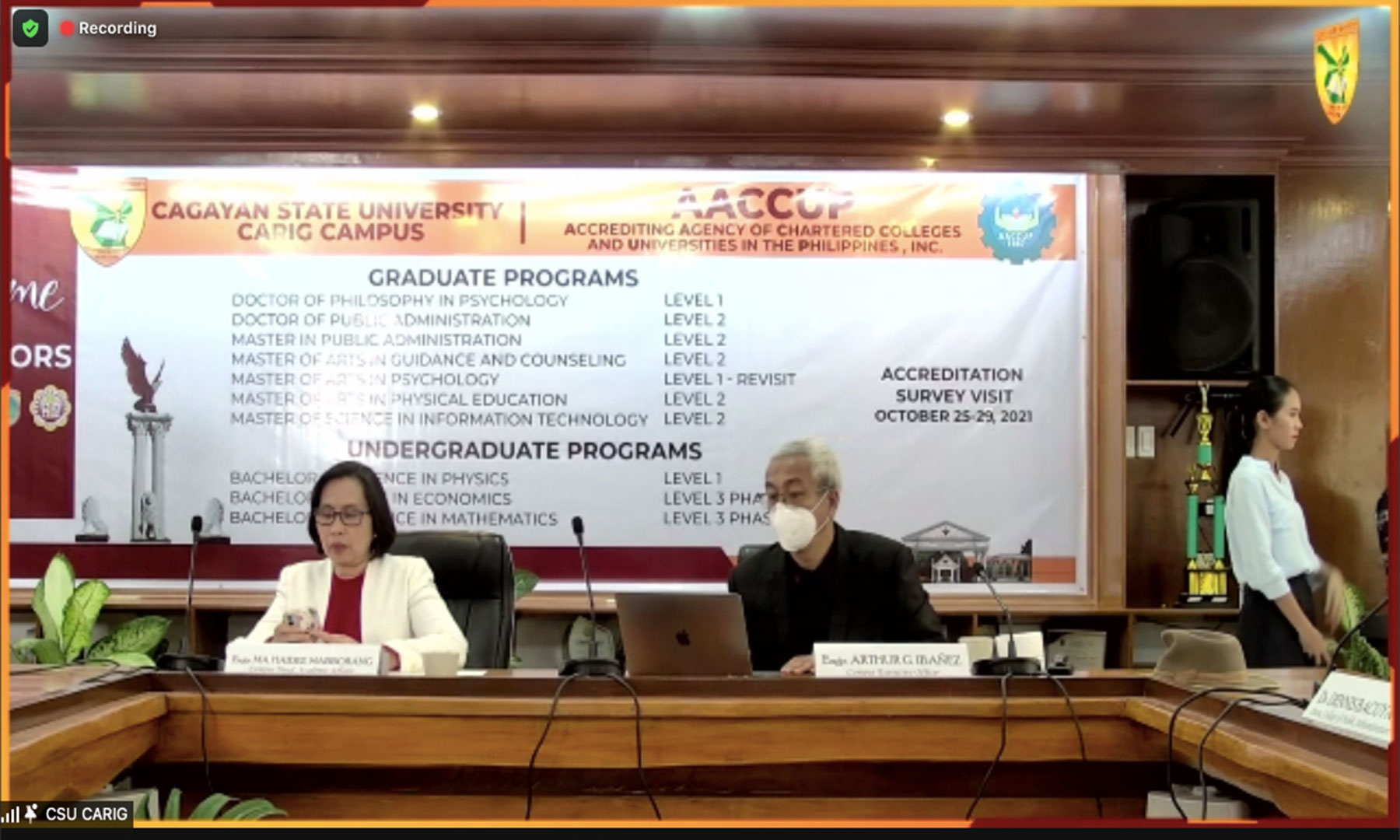 ---
University President Urdujah G. Alvarado graced the Opening Programs for the Virtual Accreditation by the Accrediting Agency of Chartered Colleges and Universities in the Philippines, Inc. (AACCUP) for graduate and undergraduate programs that are put forward by CSU-Piat, CSU-Carig, and CSU-Sanchez Mira last October 25, 2021.
In her message, President Alvarado said that the accreditation activities are relevant efforts towards Cagayan State University's new vision to be a university with global stature and to assure that CSU is at par with national standards so students get the best education possible. She also expressed her gratitude towards the AACCUP Accreditation Survey Team for their time in assessing and evaluating the academic programs and for each campus for braving the accreditation process despite the challenges of the pandemic.
In their welcome remarks, CSU-Piat Campus CEO Vicente S. Binasoy, Jr. said that more than the accolade the main focus of the accreditation is the recommendations "from there we will continue towards continues improvement", he added. CSU-Carig Campus CEO Arthur G. Ibañez said that the activity is inspired by the effort of the university that amidst the pandemic we may not lose hope in giving access to quality education. Meanwhile, CSU-Sanchez Mira Campus CEO Narcitas B. Ouano said that this virtual accreditation shall be our legacy in reaching milestones for CSU and for the campus in particular.
According to Vice President for Academic Affairs Mariden V. Cauilan, the series of accreditation are meant to, later on, build centers of excellence in the University. As of the week's accreditation process, Piat Campus has one program (Master of Science in Agriculture), Carig Campus has eight programs (Doctor of Public Administration, Master in Public Administration, MA in Guidance and Counseling, MA in Physical Education, MS in Information Technology, BS in Physics, & Ph.D. in Psychology, MA in Psychology), and Sanchez Mira Campus has seven programs (Ph.D. in Educational Management, Master of Arts in Education, Master of Science in Teaching, Master in Public Administration, Master of Science in Agriculture, Bachelor of Science in Industrial Technology, & Bachelor of Science in Agricultural and BIo-systems Engineering) for accreditation.
Cagayan State University commits towards improved higher education for the Cagayano youth as CSU campuses gear towards accreditation for various programs in the graduate and undergraduate level.