UNIVERSITY NEWS
---
CSU JOINS FIGHT AFRICAN SWINE FEVER (ASF) IN THE REGION'S SWINE INDUSTRY
By Office of the University President
---
Posted on April 22, 2021
---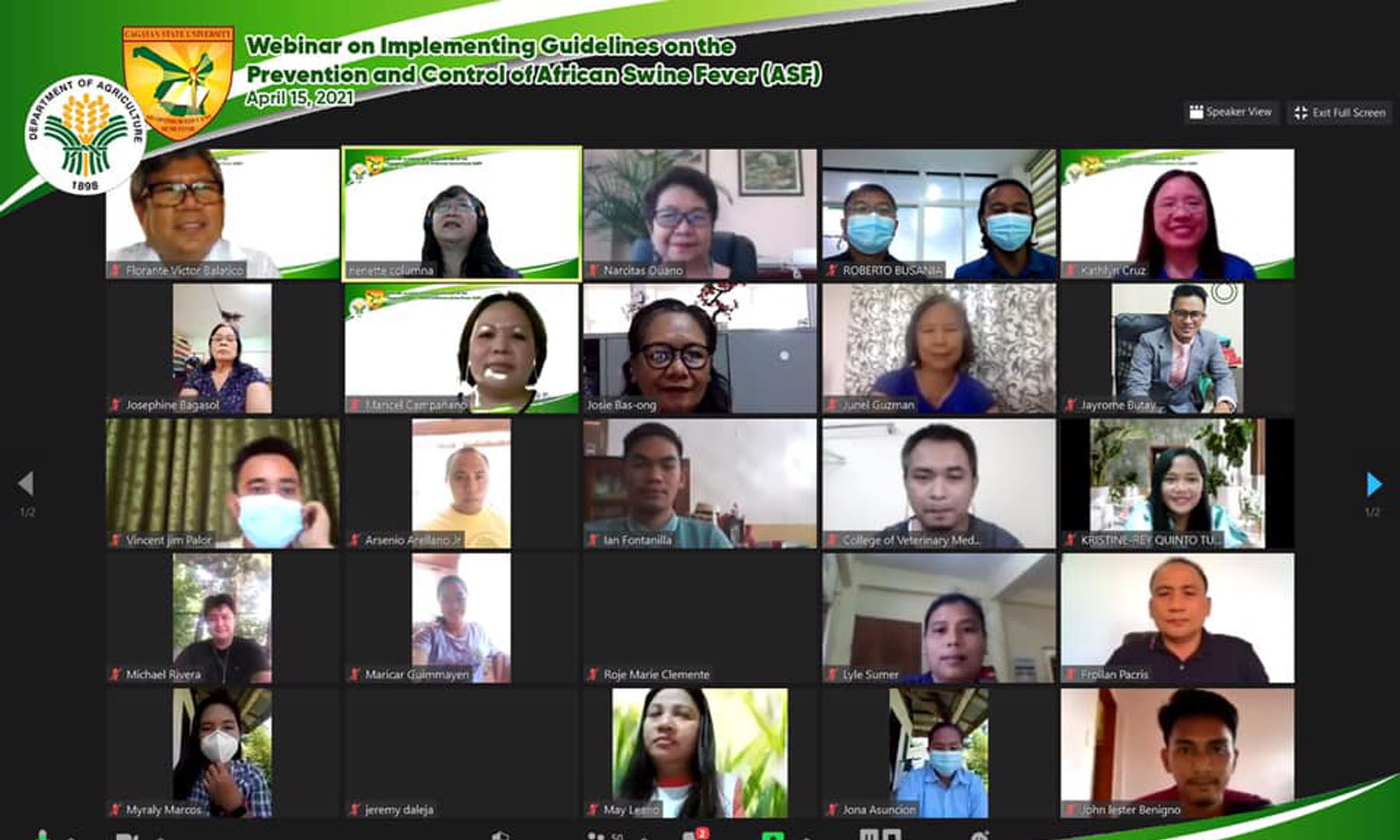 ---
With the impending threat of the African Swine Fever (ASF) in the region's swine industry, Cagayan State University, together with the Department of Agriculture Regional Field Office No. 2 (DA RFO 02), conducted an Online Seminar on African Swine Fever (ASF) through Zoom Conferencing, last April 15, 2021.
The virtual gathering was meant to keep the public, researchers, academic institutions, and other stakeholders of the current status of the ASF outbreak in the region and to advocate for information dissemination regarding the repopulation and recovery program towards reviving the hog industry. DA RFO 02's experts included Dr. Manuel M. Gallang, Veterinarian II and Dr. Roberto C. Busania, OIC - Regional Technical Director for Operation and Extension who shared their expertise on the topic.
In his opening remarks, CSU-Lallo's Campus Executive Officer Victor Balatico who was also the prime mover of this seminar affirmed the commitment of the University in addressing the fight toward ASF prevention. "The Cagayan State University is more than blessed as the Department of Agriculture shall share their expertise for us to effectively work together to prevent and control further spread of ASF.", he said. Dr. Junel B. Guzman, Vice President for Research, Development, and Extension challenged the CSU campuses that offer animal science and veterinary courses to work with farmers in eradicating ASF through research and extension.
In an interview, President Urdujah Alvarado thanked the Department of Agriculture RO2 and assured that CSU is one with eradicating the ASF surge in the region through the committed and reliable Extension leaders, Veterinarians and Agriculturists in the campuses and shall fully support future activities to exterminate ASF.