CSU leads establishment of SINAG Cagayan Valley Consortium
By Office of the University President
---
Posted on March 30, 2022
---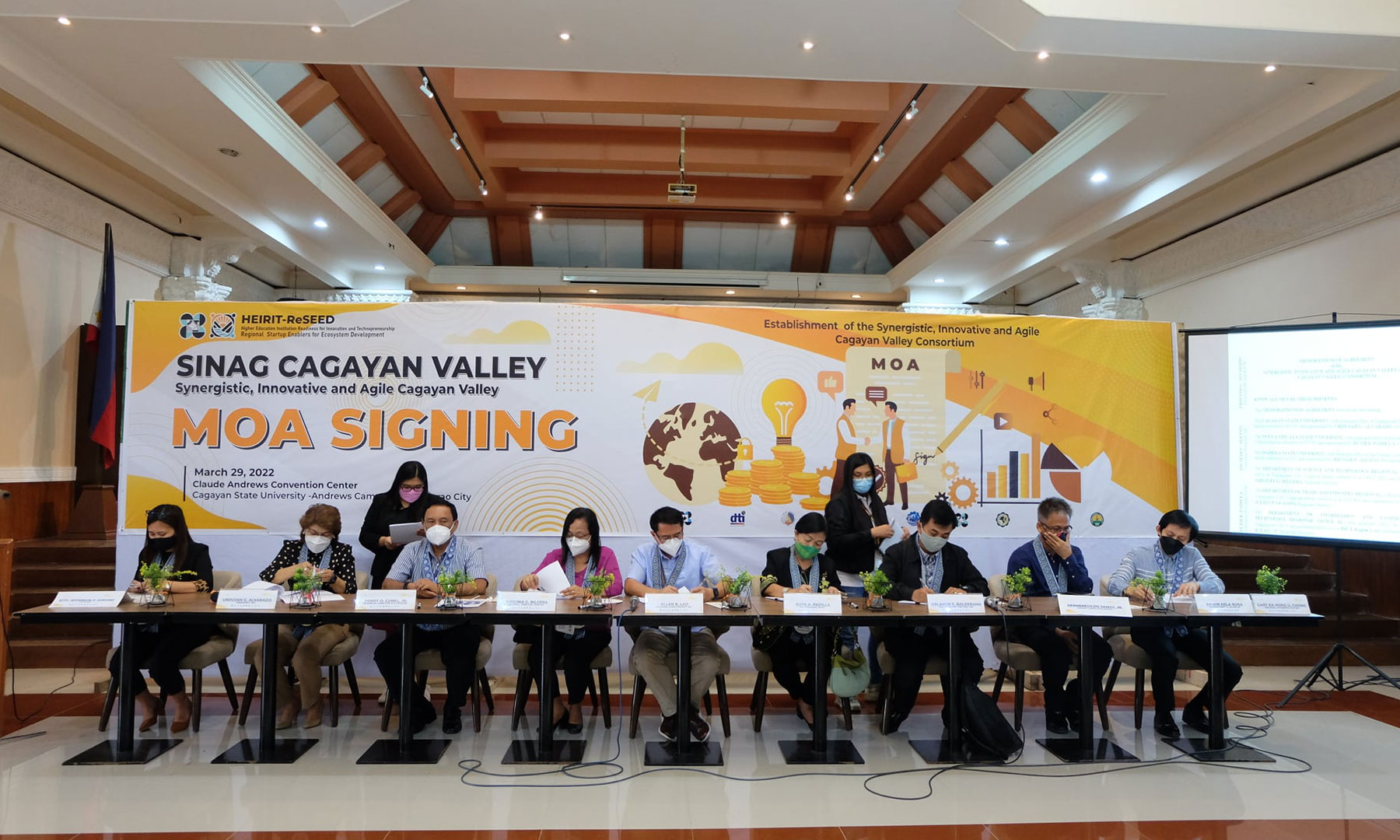 ---
With the goal to develop and enhance the startup ecosystem in Cagayan Valley, a pool of institutions and organizations gathered together for the MOA Signing of the Establishment of the Synergistic, Innovative, and Agile Cagayan Valley Consortium (SINAG Cagayan Valley) last March 29, 2022 at Claude Andrews Convention Center, CSU-Andrews.
The SINAG Cagayan Valley Consortium aims to establish a regional startup development platform to build and strengthen the startup ecosystem in Region 02. It features a regional startup development program to develop strategies to promote the startup programs of startup enablers, establish a pool of mentors and conduct mentorship programs, implement skills enhancement activities for the TBI team and other startup enablers, implement collaborative programs/activities, and harmonize the services offered by the different partner agencies in order to strengthen Cagayan Valley's startup ecosystem.
In her welcoming remarks, University President Urdujah G. Alvarado expressed the significance of SINAG as "it will serve as a strong arm in providing resources that startups need to thrive and build their businesses" and congratulated Dr. Jose Guzman for intiating the consortium's creation.
The Consortium is composed of the Department of Science and Technology Region 02, Department of Information and Communications Technology Region 02, Department of Trade and Industry Region 02, Philippine Chamber of Commerce and Industry, and Department of Agriculture Region Region 02. Academic Institution Partners include Isabela State University, Nueva Vizcaya State University. All agencies expressed their commitment to the goals of the consortium.
Moreover, Quirino State University and St. Luis University were also present as they delivered their impressions and expressed their willingness to join the consortium.
President Alvarado also affirmed the collaboration and adherence of the consortium towards alleviating startups. "We will not only help start up but develop full fledge entreprenuers. We look forward to more outputs and greater impact for all of us, forward, march", she said.