UNIVERSITY NEWS
---
CSU - APARRI GRAD SCHOOL PROGRAMS UNDERGOES AACCUP ACCREDITATION
By Office of the University President
---
Posted on May 02, 2022
---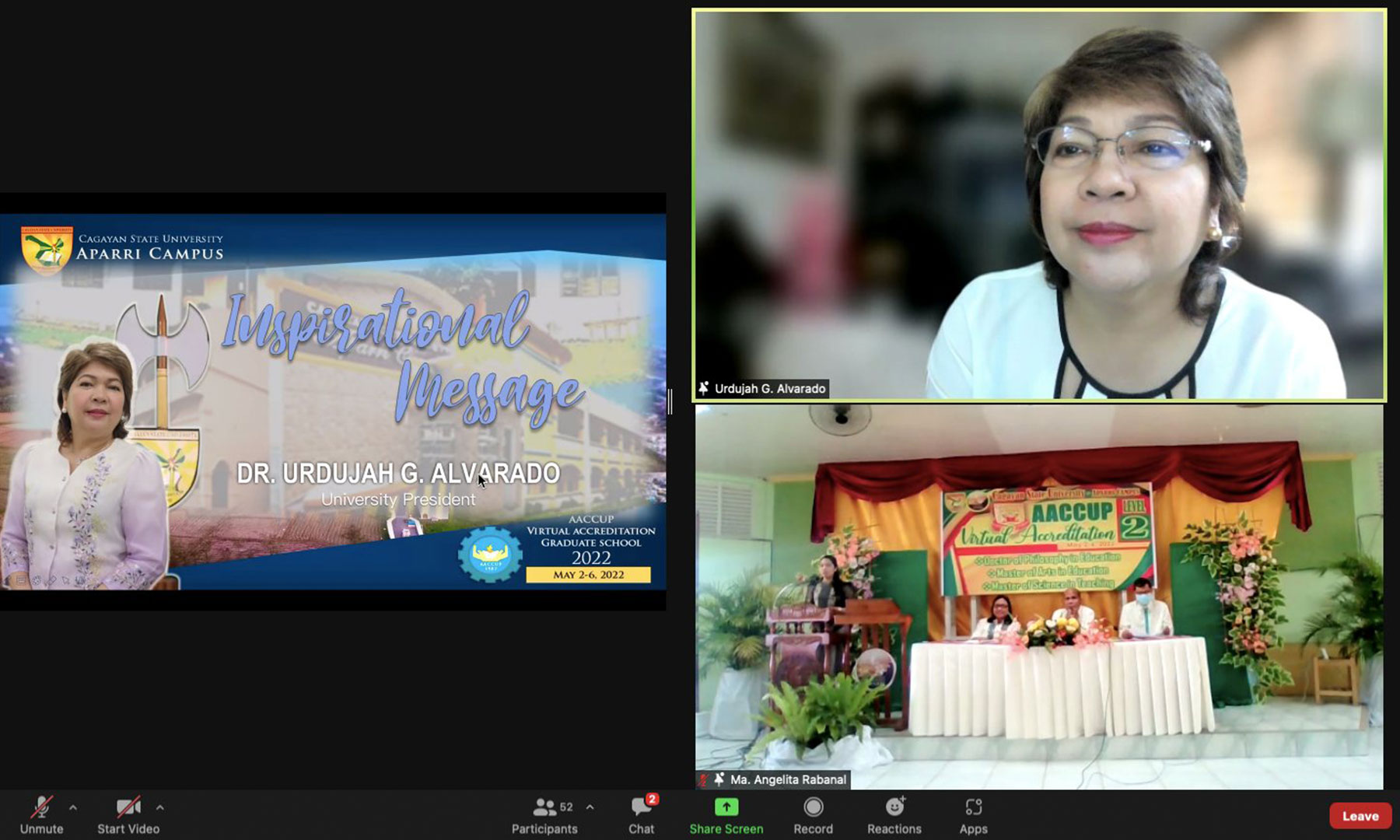 ---
Cagayan State University - Aparri Campus submits its graduate school programs for a 2nd Virtual Survey Visit to the Accrediting Agency for Chartered Colleges and Universities in the Philippines (AACCUP) for quality assurance today, May 2, 2022.
The virtual accreditation was done to put forward the Graduate School Curricular Program Offerings which include Doctor of Philosophy in Education, Master of Arts in Education Major in Education Management and Major in English, and Master of Science in Teaching Major in Mathematics which are all subject for Level II accreditation and Master of Science in Information Technology which is subject for Level I accreditation.
University President Urdujah G. Alvarado delivered her inspirational message where she expressed her gratitude to the accreditors from AACCUP for their time in ensuring CSU delivers quality education. She also mentioned her appreciation to CSU Aparri under the tutelage of CEO Simeon R. Rabanal, Jr. and the Graduate School Dean Antonio C. Cabalbag for their hard work in preparing the documents for the accreditation. On other hand, Vice President Mariden V. Cauilan welcomed the AACCUP accreditors as she mentioned that the event is a step toward the goal of CSU towards being a world-class university.
The Accreditation for the Graduate School programs will be from May 2-6, 2022, with 10 areas to be evaluated. Dr. Francisco F. Buctot, Jr from SLeSU served as the AACCUP Team Overall Coordinator.