UNIVERSITY NEWS
---
THE PERFORMANCE OF THE CAMPUSES OFFERING CRIMINOLOGY PROGRAM DURING THE CRIMINOLOGISTS LICENSURE EXAMINATION HELD IN DECEMBER 2022
By Office of the University President
---
Posted on March 13. 2023
---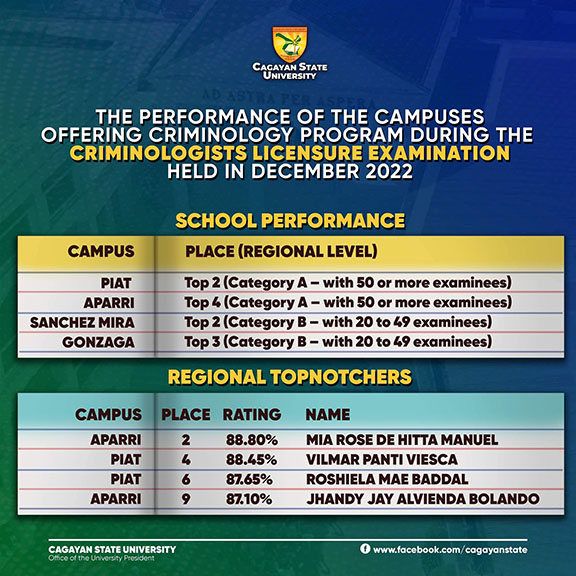 ---
Cagayan State University produced a total of 4 Regional Topnotchers and is recognized by the Professional Criminologists Association of the Philippines for being a Top School in Bachelor of Science in Criminology, producing outstanding graduates in Region 2. The accolades were awarded during the Oath taking Ceremony of Newly Registered Criminologists at SM City Tuguegarao last March 11, 2023.
4 Regional Topnotchers were awarded for their outstanding performance during the recently concluded examination. They are Mia Rose De Hitta Manuel from CSU Aparri at Top 2, Vilmar Panti Viesca from CSU Piat at Top 4, Roshiela Mae Baddal also from CSU Piat at Top 6, and Jhandy Jay Alvendia Bolando also from CSU Aparri at Top 9.
Moreover, all campuses of Cagayan State University offering the program received badges as well. For category A which are institutions that put forward 50 examinees and above, CSU-Piat was recognized as Top 2 with 72% Institutional Passing Rate (36/50), while CSU-Aparri was acclaimed as Top 4 with 55.56% Institutional Passing Rate (50/90).
For category B which are institutions with 20-49 examinees, CSU Sanchez Mira was accorded Top 2 with an Institutional Passing Rate of 60% (21/35) followed by CSU-Gonzaga at Top 3 with an Institutional Passing Rate of 48.15% (13/27).
These accomplishments highlight its exemplary performance in the December 2022 Board Licensure Examination for Criminologists.
Congratulations to the regional topnotchers, passers and faculty members of the College of Criminal Justice Education led by University Dean Maita Guadamor!