CSU IS NOW A REGISTERED BOOK PUBLISHER FOR PRINT AND DIGITAL PUBLICATIONS
By Office of the University President
---
Posted on April 28, 2023
---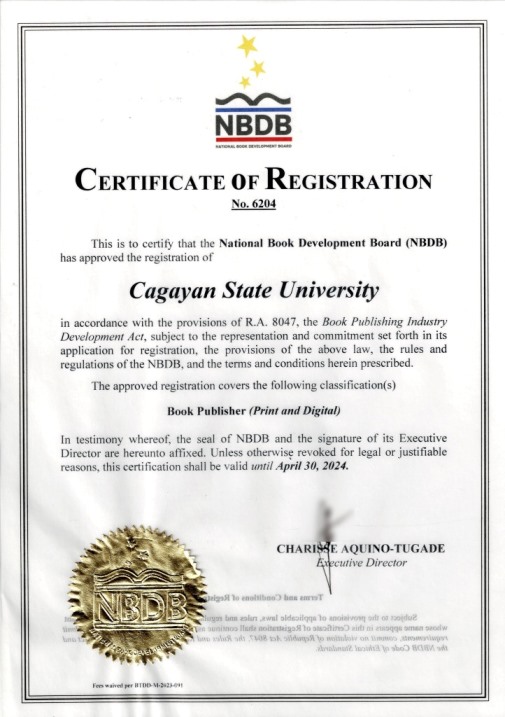 ---
CSU received a Book Publisher status certification from the National Book Development Board in accordance with the Book Publishing Industry Act or RA 8047.
This certification allows the university a stronger science communication system and ownership of knowledge produced along its IREP (Instruction, Research, Extension and Production) mandates. Charisse Aquino-Tugade, the Executive Director of NBDB, signed the certificate, which remains valid until the 30th of April 2024. It also complies with Republic Act 8047, also known as the Book Publishing Industry Development Act, which emphasizes the role of book publication in the holistic development of the Filipino people, and on a greater scale, continuous nation-building, and growth.
As a registered publisher, CSU is authorized to publish various types of books, textbooks, scientific, cultural, medical, architectural, and professional magazines, and book catalogs. These publications can be written by various stakeholders, including students, faculty, and staff of CSU, as well as external stakeholders. CSU is also entitled to several benefits and privileges, such as tax-and-duty-free importation of books and raw materials necessary for book publishing.
With this registration, CSU is now recognized and added to the NBDB's Online Registry as a registered publisher. The registration also grants CSU access to the online application of International Book Standard Number (ISBN) and International Serial Standard Number (ISSN) of the National Library of the Philippines. These standards are crucial in publication, dissemination, and metadata preservation of scholarly information. These privileges help enhance CSU's capabilities as a publisher and contribute to developing the Philippine book publishing industry. It will strengthen its ownership of the knowledge produced and intellectual properties.
President Alvarado commends the Office of the Knowledge Technology Management, under the directorship of Dr. Gilbert Magulod for facilitating the issuance of this certificate of registration.
Congratulations!